DJ Tony One
37 reviews
EVENT TYPES: Wedding Ceremony, Wedding Reception, Engagement Party, Renewal of Vows, Anniversary, Kids Birthday Parties (12 years and Under), Adult Birthday Parties (21 years and Over), Sweet Sixteen Formal and Informal, Quincenerea, Bar Mitzfa and Bat Mitzfa, Corporate Events, Video Disc Jockey, Karaoke, School Dances, Middle School Dances, Prom Dances, Winter Formal School Dances, Homecoming Dances, Father/Daughter Dances
BIO
Get a Quote for this DJ
Hello, and let me introduce myself. My name is Anthony Perez, also known as DJ Tony One. I am the owner and founder of On the Go DJ Pro. I've been djing now for well over 15 years and in that 15 year's time I have done over 3000 events ranging from wedding receptions; to birthday parties; the popular sweet 16; debutant balls; military balls; backyard parties; anniversaries; divorce parties (yes, divorce parties); themed events such as 70's, 80's, and 90's, etc. and etc. At On the Go DJ Pro, we do it all.
As the owner of On The Go DJ Pro, I pride myself on literally hand-selecting and training only the very best DJ's for my client's parties or special ceremonies and events. I decided to get into the DJ business because I was tired of hearing about terrible DJ services and I always had a lot of good valuable feedback on my own personal djing skills and abilities. I wanted to find other DJ's like myself to bring life to any party or event, training them to do events the way that I do them.
Using state-of-the-art and only the highest-quality djing equipment is also important to me and that's why all of our equipment is top-of-the-line. I like to get to my know clients before the actual day of an event through online and verbal communications, that way everyone working at On The Go DJ Pro is fully prepared for the big day of the party or event, including with the proper pronunciation of all of our client and guest names.
I make sure that my professional staff is here to assist you through the entire process, every step of the way, from the planning of your event to the big day itself. Get the party started right with DJ Tony One or anyone of my other highly-qualified and well-trained DJ's. We bring life to any party or event.
Event Types: Wedding Ceremony, Wedding Reception, Engagement Party, Renewal of Vows, Anniversary, Kids Birthday Parties (12 years and Under), Adult Birthday Parties (21 years and Over), Sweet Sixteen Formal and Informal, Quincenerea, Bar Mitzfa and Bat Mitzfa, Corporate Events, Video Disc Jockey, Karaoke, School Dances, Middle School Dances, Prom Dances, Winter Formal School Dances, Homecoming Dances, Father/Daughter Dances


Mixes:

Old School Mix
Top 40 Mix
Customer Reviews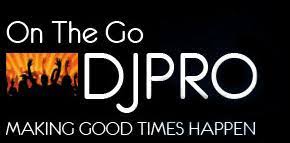 There are no reviews.
Powered by
ReviewInc
Disclosure
The reviews displayed may or may not be a complete set. Reviews may be removed if they:
i. Are abusive. An abusive review or comment is one that makes personal attacks, threatens, or harasses others, or uses profanity.
ii. Violate privacy. Reviews that mention specific names of individuals or personal information in a manner that is inappropriate and/or unrelated to the performance of the service rendered are subject to removal.
iii. Are not from a current customer.
iv. Contain material falsehoods.
v. Are deemed inappropriate.
To encourage all feedback, positive or otherwise, an equal incentive for reviews, regardless of rating, may have been provided to the reviewer.
write a review